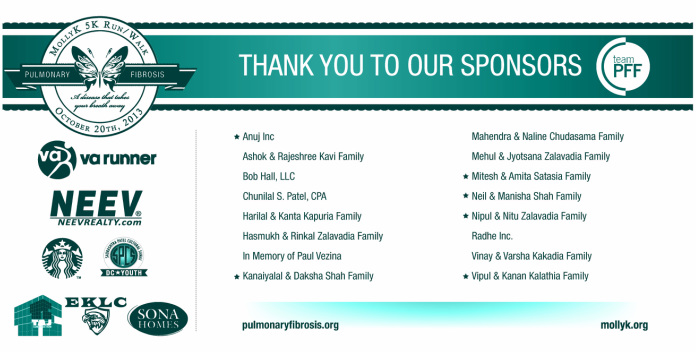 October 20, 2013
Old Mill Park, Fredericksburg, VA
Thanks to all who came out and participated (100+) and those who volunteered: Anup Zalavadia, Hasmukh Zalavadia, Sejal Patel, Nina Satasia, Nirali Satasia, Khushbu Kalathia, Aman Kalathia, Natalie Lovato, Devika Chudasama, and Andrew Kohler! Thanks to Bev Denny for offering photography services second year in a row! Thanks to Jennifer Bulandr with the Pulmonary Fibrosis Foundation for all of her support. A very special thanks to Scott Vezina for helping with event planning and setup.
Thanks to all of our sponsors: VA Runner for top three male and female prizes and raffle ticket prizes; Starbucks and Sheryl Oltmans for providing coffee as well as top three male and female prizes and raffle ticket prizes, Harilal Kapuria's Dunkin Donuts for providing donuts; Neev Realty for providing snacks and drinks.
Thanks to all of our donors: Chrysalis Level ($500+): Neev Realty, Anuj Inc., Nipul and Nitu Zalavadia and Family, Vipul and Kanan Kalathia Family, Satasia Family, Manisha and Neil Shah Family, Sona Homes, and Kaniyalal and Daksha Shah Family. Caterpillar Level ($250+): Ashok and Rajeshree Kavi Family, Radhe Inc., Mahendra and Naline Chudasama Family, Verisign, Hasmukh & Rinkal Zalavadia Family, Mehul and Jyotsana Zalavadia and Family, Taj Construction, Kakadia Family, and Chunilal S. Patel, CPA. Beginner Level ($100+): Jaeysh and Maya Kalathia, Hitesh and Rina Zinzuwadia, Hiral Suvagiya, Ajay Zalavadia and Family, Mike and Kristina Morris, Claudia Brown and Wilva Hanson, Piyush and Toby Patel, Manisha and Vikas Ohri, Birul and Neha desai, Mehul and Manpreet Vadher, Gaurav and Kajal Vora, and Claudia and Mike Brown. In-Kind Donations: Panera Bread and Brixx Woodbridge. Also, thanks to everyone else who donated.
Congratulations to the winners: Top three male winners: 1st: TERESA FEKENSA, 2nd: BRETT LAUB, 3rd: JOHN WEISS; Top three female winners: 1st: CHRISTINA SMITH, 2nd: KHUSHBU KALATHIA, 3rd: PATRICIA JOHNSON. The complete results are posted here https://runsignup.com/race/results/?raceId=5143. Congratulations to all the kids for finishing the 5K and 1K!