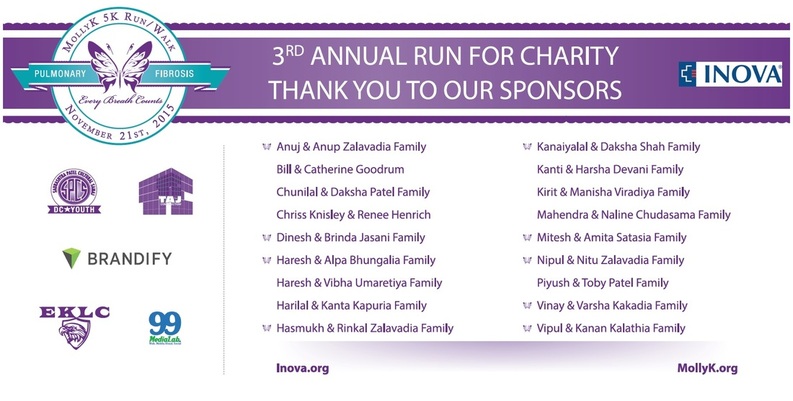 November 21, 2015
Burke Lake Park, Virginia
We want to thank everyone for supporting us in all the many ways for another very successful MollyK event. Your support and funds will continue to increase awareness for Pulmonary Fibrosis and support research to find a cure. Your contributions in the amount of $13+K were donated to the Pulmonary Fibrosis Research Program at Inova Fairfax Hospital, led by Dr. Steven Nathan. Inova is a not-for-profit healthcare provider based in Northern Virginia that serves more than two million people per year from throughout the Washington, DC, metro area and beyond.
Thanks to all who came out and participated (170+) and those who volunteered: Aman Kalathia, Anup Zalavadia, Hasmukh Zalavadia, John Ritchie, Khushbu Kalathia, Monica V. Hopkins, Nirali Satasia, Rajnil Satasia, and Ravi Viradiya!  A special thanks to Harilal Kapuria's Dunkin Donuts for providing donuts and coffee, Mitesh Satasia's Subway for cookies, Bev Denny for offering photography services, Brandify and 99 MediaLab for design services third year in a row!
Thanks also to all of our wonderful donors/sponsors without whom the event would not have been possible:
Butterfly Level ($1000+): Anonymous, and Haresh & Alpa Bhungalia.
Chrysalis Level ($500+): Anuj & Anup Zalavadia, Brandify, Dinesh & Brinda Jasani, Hasmukh & Rinkal Zalavadia, Kanaiyalal & Daksha Shah, Mitesh & Amita Satasia, Nipul & Nitu Zalavadia, The KreativeEdge LLC, Vinay & Varsha Kakadiya, Vipul & Kanan Kalathia, and Verisign.
Caterpillar Level ($250+): Anonymous, Bill & Catherine Goodrum, Chriss Knisley & Renee Henrich, Chunilal & Daksha Patel, Haresh & Vibha Umaretiya, Kantilal & Harsha Devani, Kirit & Manisha Viradia, Mahendra & Naline Chudasama, and Piyush & Toby Patel.
Beginner Level ($100+):  Ajay & Goral Zalavadia, Anup & Gayatri Manoharan, Bakul & Lata Viradia, Bhavin & Shetal Busa, Dinesh & Neelu Pant, Dhiru & Kanta Patel, Hitesh & Rina Zinzuwadia, Jayesh & Maya Kalathia, John & Rachel Kanukolanu, Kristen & Steve Duckett, Magan & Mangu Patel, Manisha & Vikas Ohri (EKLC), Mehul & Manpreet Vadher, Milini & Nakia Young, Pravin & Pragna Kotadia, Rajeev & Vasuda Gupta, Rajendrasinh & Neelam Chudasama, Richard Sasdi, Rick & Priti Vaghasiya, Rohan & Neha Kalathiya, and Sheetal Patel.
In-Kind Donations: Paradise Spring Winery.
As well as to everyone who donated.
Congratulations to the prize winners as well as to all the kids for finishing the 5K and FunRun: 
Top three male winners: 1st Nii-Boi Quartey, 2nd Nii-Kwa​​rtei Quartey, and 3rd Sai Krishna Vemulapalli
Top three female winners:  1st Colleen Webster, 2nd Simone Gatson, and 3rd Melanie Hernandez
Complete results are posted here https://runsignup.com/race/results/?raceId=5143.